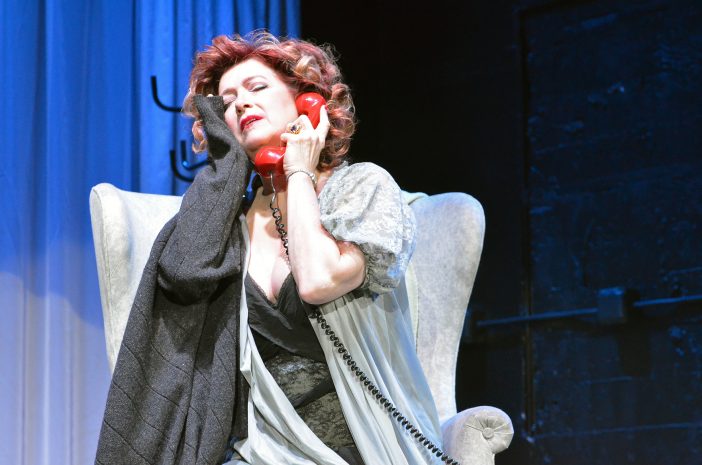 Reviews are in!
Los Angeles Times: 
"With her flawless articulation and vocal nuance true to every dramatic utterance, Hanson produces a raw immediacy that adds a remarkable authenticity.." 
http://www.latimes.com/entertainment/arts/la-et-cm-long-beach-opera-review-20160411-column.html
Orange County Register: "
With Hanson subtly negotiating the emotional ebb and flow, and without overstating the character's desperation, we became slowly wrapped up in her situation, eavesdropping on her phone call. The rich amplitude of Hanson's climaxes was earned, the quieter passages were clearly articulated and enunciated. Supertitles were absent and not needed. Van Grysperre supported her warmly, precisely, eloquently. Sometimes, understatement is a virtue." 
http://www.ocregister.com/articles/opera-711566-poulenc-hanson.html
Long Beach Telegram: "
…
a masterful performance…a level of dramatic intimacy you can never experience in an opera house.:.not a single fidget, sigh, smile, tear, dulcet or piercingly loud high note of her harrowing performance is lost…Hanson's performance is a tour de force as we watch her emotional state decompose before our eyes, one desperate crack at a time."
Random Lengths News:
"H
er acting that keeps us engaged. Elle's emotions run the gamut from forgetful reverie to abject misery when the reality of her situation comes back to her, emotions often arrested in midsentence due to the many losses of connection across the telephone line. 
Hanson is not alone onstage but is accompanied by pianist Kristof Van Grysperre, another LBO regular—and with good reason. The jagged nature of Poulenc's score relies upon a synchrony between vocals and piano, and here the two performers animate La voix humaine as one."
http://www.randomlengthsnews.com/la-voix-humaine-long-beach-opera/
.
Long Beach Post: Hanson's performance…
grounded and convincingly heartbreaking. In particular, her ability to shift between plainly spoken or sung lines to those more grandiose and lyrical created a believability and immediacy that the actress, the musical director and the stage director should all be proud of…
Hanson is one of those rare performers who physically and vocally inhabit material so fully it becomes difficult to observe either her voice or her acting in isolation. Her commitment and the flawless integration of both of these elements into one another offers the rare treat of experiencing good opera that also feels like good theater. 
http://lbpost.com/life/arts-culture/2000008654-hanging-on-the-telephone-literally-la-voix-humaine-at-long-beach-opera